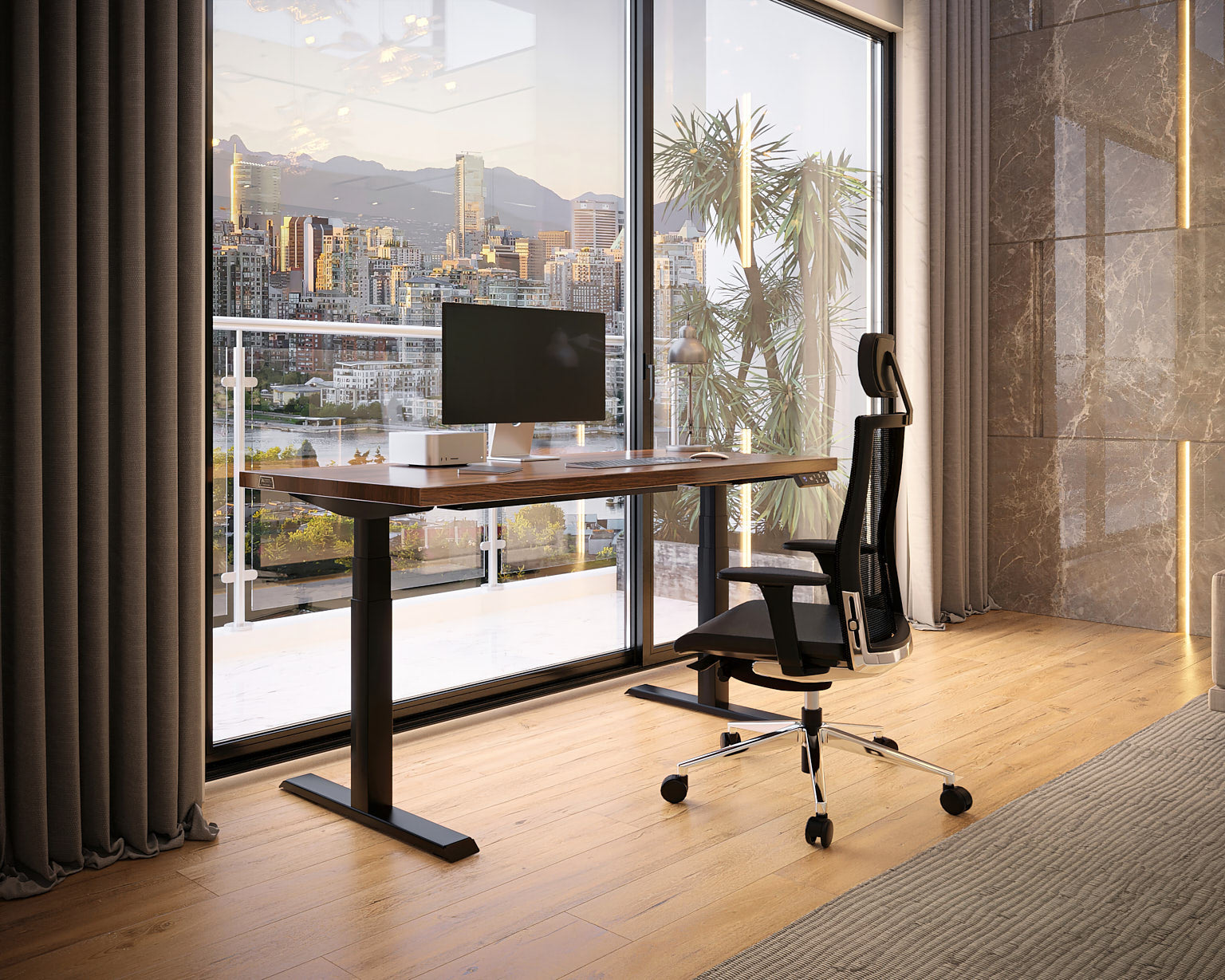 Generally all our sit and stand desks take about 30-60 mins to assemble with the required tools shown in the instruction manual. Since our desktops are quite heavy, We recommend two people for the final assembly. If you require additional help please get in contact with us.
Absolutely, We design and manufacture our steel cable management box that can be purchased separately here: Cable One
To ensure long term longevity, Our frames support 300 lbs without the desktops. Our Frame Two supports up to 600 lbs.
We take pride in sourcing our wood from reputable USA and local suppliers, ensuring that we only use premium Grade A black walnut and pacific maple wood, which have minimal to no knots for a flawless finish.
To set up your desk, follow these simple steps:
Press and hold the down arrow until the desk reaches its lowest point.
Release the button and wait for 5 seconds.
Press and hold the down arrow again until the desk slightly lowers and emits a beep.
This beep confirms that your desk has been initialized and is ready for use.
Certainly! Our wood tops are available for purchase separately in both 60" and 72" sizes. Please get in contact with our team for more information on pricing and availability.
We are proudly owned and operated in Canada. We design and develop all our products in Vancouver.
Absolutely! We do offer at-home desk installation services. For a fixed rate of $250, our professional team will come to your location and ensure a seamless installation of your new standing desk.
We also offer corporate desk installation services. For more detailed quotes and information, please get in touch with our team.
We design and develop all our products in Vancouver and work closely with manufacturers ranging from North America and Asia. We strive to develop close relationships with our suppliers, ensuring we have the capability to design the most optimum quality products available. We would be more than happy to provide you with more information if needed.
Our desktops don't come with pre-drilled holes. We let our customers decide their own preference. We recommend leaving at least 5cm (2") of the desktop width on each side of the frame.
We recommend only using solid wood and medium density MDF desktops.
Absolutely, Please contact us regarding additional wholesale information.
All our frames have an anti collision safety feature. If something gets in the way while the desk is moving, it will stop.
Certainly! We do offer custom sizes for your dream desk. Please get in touch with our team to discuss the details.
We recommend using top lengths anywhere from 43" to 75" and minimum widths from 24".
Even though our frames are designed above the rated weight capacity, we don't recommend putting over 300lbs on the desktops to ensure long longevity.
At this time we do not offer optional handsets on single orders. We however offer additional options on wholesale orders. Please contact us for more information.
We recommend that you don't use any chemicals or solvents to clean our desktops with. We only recommend a lightly damp microfiber towel for general cleaning. If there is a lot of grime buildup we recommend using mineral spirits.
We're Here to Help.
Got more questions? Get in touch with our team today!